Could Waterstone Mortgage be the perfect fit for your mortgage company?
As a bank-owned mortgage company, Waterstone Mortgage offers the strength and stability that many loan originators and homebuyers seek.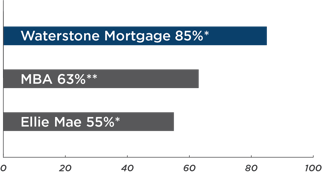 With a focus on purchase loans (which comprise approximately 85% of our total business), we are passionate about closing loans on time. We originated more than $2.6 billion in annual volume for 2017.
As a prominent and well-respected leader in the mortgage industry, we are also the recipient of many awards, including Mortgage Executive Magazine's "50 Best Companies to Work For" (in 2018, we were ranked as the #2 company to work for!), Scotsman Guide's "Top Mortgage Lenders," and Ellie Mae's Hall of Fame award.
We have the stability of bank-ownership
Waterstone Mortgage is owned by WaterStone Bank, SSB (NASDAQ: WSBF), which has assets of more than $1.8 billion. Not only does this financial security benefit our customers, but it also reassures our business partners. As a result, this bolsters our credibility, allows our branches to expand, and helps our loan originators grow their businesses.
We have a long-term growth plan and are looking for strategic acquisition opportunities that make sense for both parties. Being bank-owned also gives us the capital and flexibility to create structures that allow you to continue to realize upside, even after the closing of a transaction.
We have the technology loan originators want
Waterstone Mortgage offers a variety of innovative technology systems to help improve the homebuying process for our loan originators, homebuyers, and our customers' Realtors.
The Waterstone Mobile app allows qualified clients to get pre-approved for a loan, and they can even access, customize, and print their own pre-approval letters. The app also features mortgage calculators and payment estimators.
Our Realtor partners can also benefit from Agent Connect, an easy-to-navigate, mobile-responsive website that allows them to stay up to date with their clients' loan information and status, and to generate pre-approval letters on their clients' behalf.
Our proprietary Connect technology allows our loan originators to access the details of their loan files on their mobile devices, and our CRM helps them stay top of mind with their past, current, and prospective clients.
We also utilize predictive scoring and modeling technology to focus our marketing efforts on the right prospects. In the years ahead, it will be necessary and advantageous to increase the number of leads we put in front of our loan originators, and we are on the leading edge of this strategy.
We have the loan programs homebuyers seek
We offer a variety of outside-the-box portfolio loans which ensures that virtually every potential homebuyer can pursue their dream of homeownership. A few of our offerings include: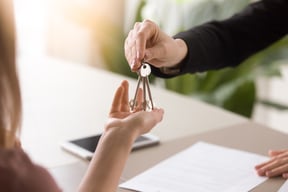 Fannie Mae, Freddie Mac, and Ginnie Mae Direct
Bank portfolio programs
Conventional loans
VA, USDA, and FHA loans
Medical professional programs (up to 100% LTV in certain states)
Wealth Building Loan (100% LTV)
Single Loan Close Construction Program
Jumbo loans (85-100% LTV; loan amounts up to $2 million)
Condo loans (including non-warrantable)
We have the leadership & vision needed to succeed
Waterstone Mortgage has established the precedent for new initiatives, and operates ahead of the curve – allowing loan originators to hit the ground running as soon as industry changes are in place. We are a business where the employees have confidence in the leadership team's decision-making process, and trust in the direction that has been determined for the future of this company.
*According to the February 2018 Ellie Mae Origination Insight Report
**According to the Mortgage Bankers Association Mortgage Finance Forecast March 2018